Women's Work: Making Dance in Europe before 1800
---
2008
---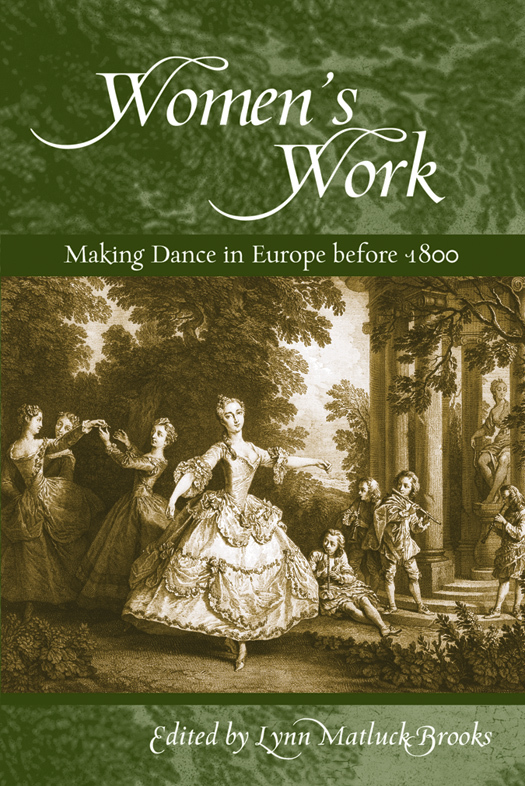 Editor: Lynn Matluck Brooks
Contributors: Régine Astier, Lynn Matluck Brooks, Anne Daye, Angene Feves, Moira Goff, Nathalie Lecomte, Sarah McCleave, Joellen Meglin, Karen Silen, Barbara Sparti
"A fascinating collection that illuminates women's early work in dance with fresh information and keen insights."-Sandra Noll Hammond, professor emerita and director of dance, University of Hawaii
Like the history of women, dance has been difficult to capture as a historical subject. Yet in bringing together these two areas of study, the nine internationally renowned scholars in this volume shed new and surprising light on women's roles as performers of dance, choreographers, shapers of aesthetic trends, and patrons of dance in Italy, France, England, and Germany before 1800.
Through dance, women asserted power in spheres largely dominated by men: the court, the theater, and the church. As women's dance worlds intersected with men's, their lives and visions were supported or opposed, creating a complex politics of creative, spiritual, and political expression. From a women's religious order in the thirteenth-century Low Countries that used dance as a spiritual rite of passage to the salon culture of eighteenth-century France where dance become an integral part of women's cultural influence, the writers in this volume explore the meaning of these women's stories, performances, and dancing bodies, demonstrating that dance is truly a field across which women have moved with finesse and power for many centuries past.
"Women's Work is a welcome addition to the sparse body of scholarly work that concentrates on dance practices and the accomplishments of women before 1800. But this intriguing volume is also replete with thought-provoking discussions that resonate far beyond its early dance time frame, probing issues that are well worthy of discussion within the larger framework of dance history."-Elizabeth Aldrich
Lynn Matluck Brooks is the Arthur and Katherine Shadek Professor of Humanities and Dance and chair of the Department of Theater, Dance, and Film at Franklin and Marshall College. She has written several books, including The Art of Dancing in Seventeenth-Century Spain.
Title: Women's Work Making Dance in Europe before 1800
Editor: Lynn Matluck Brooks
Pub Date: January 2008
256 pp. 6 x 9, 11 b/w illus., 14 tables, 1 map
ISBN 978-0-299-22530-8 (cloth) $65.00
ISBN 978-0-299-22534-6 (paper) $27.95