The Body of the People: East German Dance since 1945
---
2013
---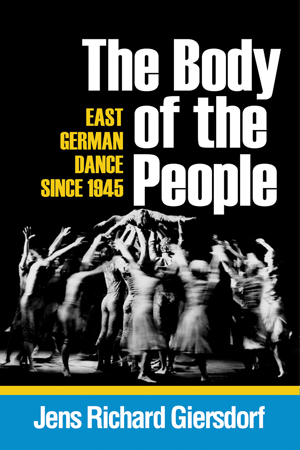 Author: Jens Richard Giersdorf
The Body of the People is the first comprehensive study of dance and choreography in East Germany as a disciplinary and resistive tool. More than twenty years after the fall of the Berlin Wall, Jens Richard Giersdorf investigates a national dance history in the German Democratic Republic, from its founding as a Communist state that supplanted the Soviet zone of occupation in 1949 through the aftermath of its collapse forty years later, examining complex themes of nationhood, ideology, resistance, and diaspora through an innovative mix of archival research, critical theory, personal narrative, and performance analysis.
Giersdorf looks closely at uniquely East German dance forms- including mass exercise events, national folk dances, Marxist-Leninist visions staged by the dance ensemble of the armed forces, the vast amateur dance culture, East Germany's version of Tanztheater, and socialist alternatives to rock 'n roll- to demonstrate how dance was used both as a form of corporeal utopia and of embodied socialist propaganda and indoctrination. The Body of the People also explores the artists working in the shadow of official culture who used dance and movement to critique and resist state power, notably Charlotte von Mahlsdorf, Arila Siegert, and Fine Kwiatkowski. Giersdorf considers a myriad of embodied responses to the Communist state even after reunification, analyzing the embodiment of the fall of the Berlin Wall in the works of Jo Fabian and Sasha Waltz, and the diasporic traces of East German culture abroad, exemplified by the Chilean choreographer Patricio Bunster.
Jens Richard Giersdorf is Professor of Dance Studies at Marymount Manhattan College in New York City. Prior to his academic career he was a dancer and dramaturg with Tanzbühne Leipzig, in the former German Democratic Republic.