Kaiso! Writings by and about Katherine Dunham
---
2006
---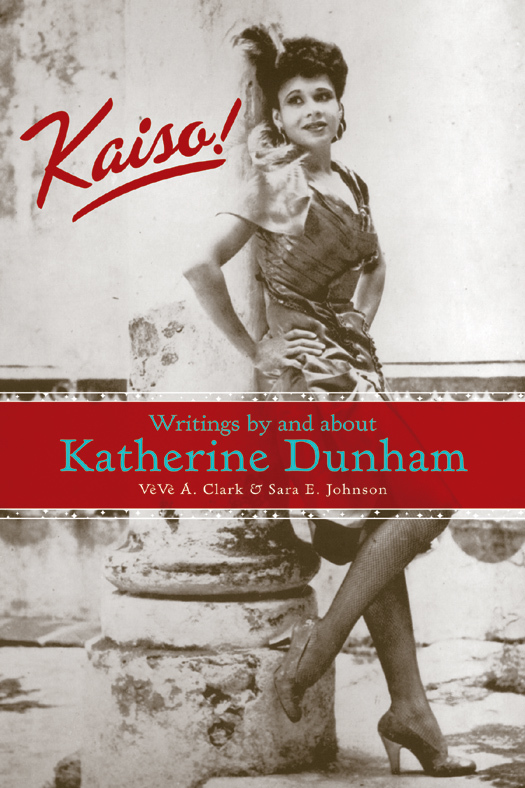 Editors: VèVè A. Clark and Sara E. Johnson
"Kaiso," a term of praise that is the calypso equivalent of "bravo," is a fitting title for this definitive and celebratory collection of writings by and about Katherine Dunham, the legendary African American dancer, choreographer, anthropologist, and social activist. Originally produced in the 1970s, this revised and much expanded edition includes recent scholarly articles, Dunham's essays on dance and anthropology, press reviews, interviews, and chapters from Dunham's unpublished volume of memoirs, "Minefields." With nearly a hundred selections by dozens of authors, Kaiso! provides invaluable insight into the life and work of this pioneering anthropologist and performer and is certain to become an essential resource for scholars and general readers interested in social anthropology, dance history, African American studies, or Katherine Dunham herself.
"Kaiso! will stand alone as a document of Dunham's achievements over many years."-Thomas F. DeFrantz, editor of Dancing Many Drums: Excavations in African American Dance
Katherine Dunham (1909-2006) numbers among the most influential dance artists and scholars of the twentieth century. Trained as an anthropologist at the University of Chicago, Dunham combined her interest in dance and anthropology by linking the form and function of Caribbean dance and ritual to their African sources. Her research provided the core for what would become known as the Katherine Dunham Technique of Dance, which integrated African and Caribbean styles of movement with ballet and modern dance. Her career as a dancer and choreographer encompassed Broadway revues, appearances in several films, and choreography for the New York Metropolitan Opera. Also a recognized social activist, Dunham staged several highly publicized hunger strikes and often incorporated speeches against discrimination into her stage performances.

"Katherine Dunham, a legendary artist at 96, has traveled the world as a dancer, founded several dance companies and schools, pioneered the discipline of dance anthropology, developed a unique movement technique, fought segregation, and written short stories and nonfiction. The many facets of her creative life are illuminated in this anthology of essays, interviews, programs, reviews, photographs, short stories and autobiographical material. Some of the most compelling entries are written by Dunham herself, including excerpts from her unpublished memoir, 'Minefields,' which describes her development as an artist and her struggles against racism, poverty and debilitating arthritis. As glamorous as she was talented, Dunham rubbed shoulders with Igor Stravinsky, George Balanchine (in the groundbreaking Broadway musical Cabin in the Sky) and Langston Hughes, yet was equally enthralled by the Afro-Caribbean dancers she studied. The myriad achievements of Dunham, whose dance company was one of the first African-American troupes to tour internationally, and the efforts to preserve her legacy are examined by an illustrious list of dancers, critics and scholars. Clark and Johnson, both academics at the University of California, have assembled an informative and entertaining resource."-Publishers Weekly
(Starred Review) "Katherine Dunham is polymorphous: a trailblazing dancer, choreographer, anthropologist, educator, and activist. Dunham describes her origins as polygenetic: her mother's French Canadian family included European, Russian Jewish, Indian, and black relatives, whereas her father traced his roots to Madagascar. By inheritance and inclination, Dunham's life has been creative, cosmopolitan, and complex. Born in Chicago in 1909, Dunham navigated a difficult childhood, earned her PhD in anthropology at the University of Chicago, and secured fellowships to study Caribbean dance. She founded one of the first African American ballet companies, which toured all over the world, and she collaborated with George Balanchine. Dunham's many endeavors and attributes are discerningly displayed and interpreted in this generous and dazzling collection. Here are excerpts from Dunham's elegantly composed books; her brilliant manifestos on the communal, aesthetic, and spiritual dimensions of dance; and electrifying, never-before-published swathes of autobiography. Interviews and essays by critics and scholars explicate Dunham's highly influential work and social activism. Kaiso!, a calypsonian expression of admiration, perfectly captures the enthusiasm and gratitude readers will feel as they immerse themselves in all things Dunham.-Booklist
"[Kaiso!] is a tribute, an homage-and an attempt to weigh in on the debate over the significance of Dunham's work in modern dance history. Dunham succeeded in boldly immersing modern dance in ethnicity. The dozens of Dunham works listed in the book-'Drum Ritual,' 'Field Hands,' 'Plantation Dances,' 'Octoroon Ball,' 'Jazz Finale'-conjure up an unapologetically potent brew, many of them described by Dunham herself in selections from her revealingly titled memoir, 'Minefields.'"-New York Times, Feb. 2006
VèVè A. Clark (1945-2007) was associate professor of African American studies at the University of California, Berkeley. Sara E. Johnson is assistant professor of comparative literature at the University of California, San Diego.
Title: Kaiso! Writings by and about Katherine Dunham
Editor: VèVè A. Clark and Sara E. Johnson
Pub date: March 2006
718 pp. 6 x 9 26 b/w photos
ISBN 978-0-299-21270-4 (cloth) $65.00
ISBN 978-0-299-21274-2 (paper) $24.95