Dancing Economies
---
2009 | XXIX
---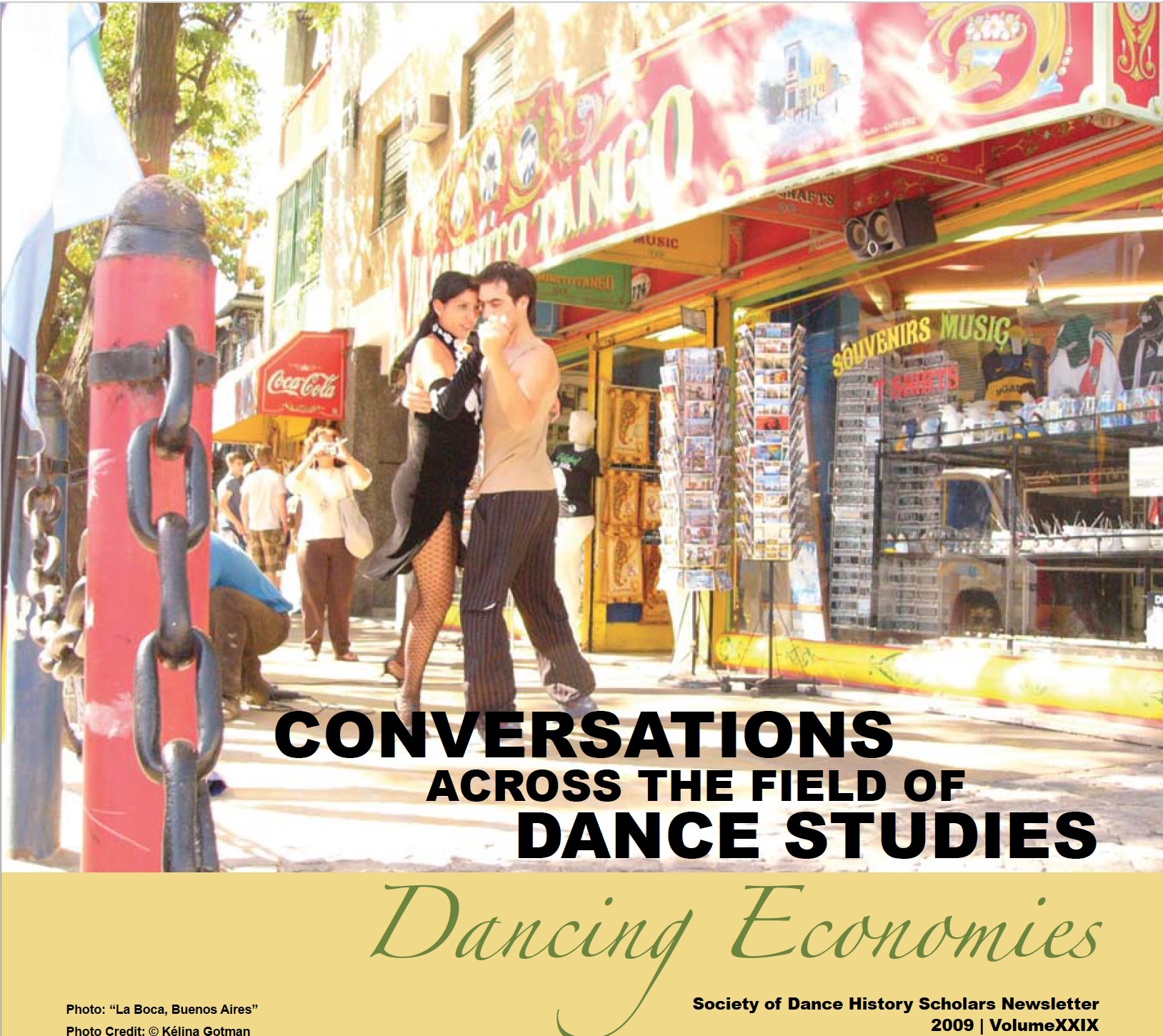 Editor: Vida Midgelow
By the end of 2007 the world had started to recognise that financial markets were in a state of crisis and by June 2009, when the sdhs conference took place at Stanford University, the ramifications of this downturn were being felt. During the conference many a conversation could be heard in corridors, around coffee tables and in lecture halls of dance company closures, job cuts, wage reductions and funding shortages. The email enclosed on the next page - like a "post-it" of our times - announcing the funding cut to InSPIRAtions Dance Company is typical of such notices that we all see on a regular basis. Given this climate it seemed timely and appropriate to offer the opportunity to the sdhs members to reflect upon the relationships between dance and the economy. The call for this issue asked:
What are the effects of the current economic climate on dance? On dance programmes? On universities and other institutions?
In what ways does dance contribute to the economy? What are the intersections between dance and finance?
What is the marketability of dance?
How are you sustaining your dance practice?
I was somewhat surprised, not to say disappointed, to find that the initial call gave rise to only a limited number of responses. Are we, as a dance community, really not interested in attending to the issues that are affecting the life's of our dance friends and neighbours? Does the closure of dance companies not exercise us to write, to protest, to reflect? Are we so involved in our own aestheticised, perhaps even esoteric, research that we are not able to focus upon the realities of the economy? Then, I began to think again. With a more generous spirit I considered the possibility that lives may have become so pressured that energies have to be carefully targeted as the practicalities of paying dancers, making a living and searching for limited funding sources, are all consuming in these difficult times. Or conversely, the dance community - long under funded and under supported - has little to loose in the first place! We are, perhaps, so used to financial instability that we, instead of being in crisis, are in fact well placed to capitalise on this current moment.
Such different states of being and personal responses are evident on the pages that follow. The essays in this issue reveal a community that is clearly engaged with, being directly affected by, and that is finding ways to adapt to, the financial issues of the day. Further, the wider relationships between movement practices and the economy are not lost as writers reflect on publishing, tourism and the hired body of runway models. read more